Nice to meet you!
After three decades as a curly, where I straightened it, hidden it, and untangled it, I decided to make peace with my hair and get back to natural.
As part of the process where I lovingly embraced my curly hair, I founded "Metultalot", the Curly Hair Community. It is a home for all Curls, waves, coils and kinks out there. About 100,000 people are members of the community and during the last 6 years of its existence, it has helped so many women, girls, girls and men to love and embrace their curls. While I kept learning, researching and passing on the information I gained about curls to the community, in curly festivals that I have produced, I kept on searching for quality products that can make my hair healthy, shiny and defined.
Over time, and after learning different hair care techniques and experimenting with almost all popular products in around the globe, I have come to the conclusion that I was longing for products that will give my hair not only a healthy appearance from the outside but from the inside as well.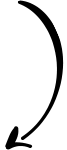 So I left my day job in high-tech
And I embarked on an adventure that had quite a bit of risk, but a lot of satisfaction: developing quality hair products for curly hair. Products that save us time messing with our hair. Products that will make our curls defined, luminous and pleasant to the touch.

Without spreading useless marketing messages, and with no big company that has my back, I have started a business here that I have built with my very own two hands, with a lot of effort and willpower to create something really good and quality here.

All the formulas were tested among curly hair women and men from the curly hair community. The formulas were changed back and forth according to their feedbacks until they were satisfied.
After no less than two years, and after the Ministry of Health approvals – we set off!

You are invited to take a journey with me, not only in developing a new breed of hair products tailored to the needs of the community, but also experiencing with me this way of establishing a new brand from scratch.

Always here, with you and for you

Orian Paz